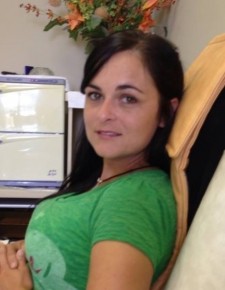 18 years after high school, the inspirational story of finding success on the ACT, utilizing Jumpstart Test Prep
BROOKHAVEN, Miss., November 12, 2019 (Newswire.com) - ​LeAnn Holmes planned to go to college and study nursing, but life got in the way. As one year followed another, LeAnn worried that too much time had passed to realize her dream. "I never forgot the promise I made to myself about becoming a nurse." "I am not giving up on going to college," she told herself. "And I'm not going to give up on nursing." Only one thing continued to block her pursuit - the ACT exam. Since graduating more than 18 years ago, LeAnn had taken the ACT four times and had never been able to score high enough to enter a nursing program.
She gathered the courage and the money for another attempt. LeAnn confided, "My fear of trying to remember all that math and English was weighing on me, but I signed up for a fifth attempt on the last day to register for the ACT anyway. I tried preparing with whatever I could find and still didn't get the score I needed on test day. I was so disappointed. My confidence was gone. I knew I would need help to attain the ACT composite score required to get into the nursing program at our nearby community college."
Taking her educational future into her own hands, LeAnn began looking for answers beyond conventional study aids. Her boyfriend found Jumpstart Test Prep, and after a good dose of encouragement, he signed her up. LeAnn had three weeks to complete the online prep before the next ACT test date.
Jumpstart Test Prep's website, www.jumpstarttestprep.com, describes their program as a review utilizing streaming video modules that are delivered on-demand. The program is designed for classroom integration or individual study and has proven to help students of all ability levels stay fully engaged and gain the most improvement in the shortest time by explaining difficult content in a way that every student can follow and understand. Students follow and complete the accompanying workbook as the review proceeds. Modules review the must-know content, include testing strategies specific to the exam, and conclude with realistic practice questions modeled from actual "retired" exams that are provided under a time constraint. According to student reviews of the program on the website, the program helps students with time management and allows them to work faster on test day.
LeAnn was amazed at the positive changes that followed. "Time was my biggest issue with the ACT," said LeAnn. "I never had enough time! Jumpstart prepared me for the 'time soaker' questions. I knew how much time I had for each question and when I needed to move on to the next question. It was really simple to use - I just watched the modules and completed the workbooks as I watched."
After utilizing Jumpstart's Math, English, Science and Reading prep, LeAnn finally attained the ACT prerequisite score requirement for the nursing program at Southwest Mississippi Community College.
Her ACT English subscore improved from 15 to18, her ACT Science sub score improved from 16 to 19, her ACT Reading subscore improved from 16 to 18, and her ACT Math subscore improved from 15 to 17.
"I felt more confident and prepared while taking the test," said a beaming LeAnn. "I'll never forget that excitement of getting into the nursing program," she says. "The Jumpstart ACT review made it all possible!"
"LeAnn represents a number of adults who wish to pursue new careers and use our review products to successfully prepare," says Co-founder and CEO, Sha Walker. "Our review program was developed by legendary 55-year educator, Dot McClendon, who has tutored thousands and thousands of students helping them to perform their best. Jumpstart Test Prep is a proven, modern approach that works for anyone. We are so proud of LeAnn for her perseverance and know she will do great in her chosen profession."
Media Contact:
Robert Cadogan​​
Email: ​info@jumpstarttestprep.com
Phone: 833-835-8329
Source: Jumpstart Test Prep
Share: