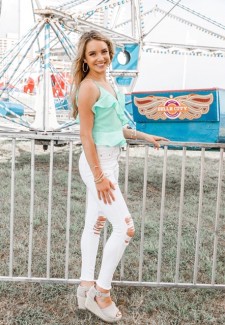 New time management strategies and curriculum content review proved to be a successful combination for Madison Walker using Jumpstart Test Prep
BROOKHAVEN, Miss., February 12, 2020 (Newswire.com) - ​​After using Jumpstart Test Prep to prepare for her sixth attempt at the ACT® exam, Biloxi High School senior Madison Walker saw dramatic gains in her performance. The highest-possible ACT® score is a 36 and the national average last year was a 20.8. On her sixth attempt, Madison improved her composite score from her initial attempt of a 21 to an impressive 30.
At Biloxi High School, Madison is known for her standout performance in both academics and athletics. As a successful track and cross-country runner, Madison holds multiple school records in track events. She has shared about how grit and perseverance have helped her achieve success. And now, she's revealed her approach to the ACT® and the results she earned with proper strategies and review.
"You're going to have good days and you're going to have bad days when it comes to running," says Madison. "The same thing happens when you're getting ready for the ACT®, but bad days are cut when you train smarter with the right tools."
In Madison's first try at the ACT®, she was not fully prepared and was unable to finish any of the sections. Her composite score of a 21 provided her the information she needed to focus on areas she could improve. For her second through fifth attempts, she saw steady improvements, yet fell backward by one composite point. She engaged in a classroom-based test prep program, took an AP language course, and began some self-help work at home to better prepare. However, Madison knew a score of 26, her best result on the ACT®, would not make her a competitive applicant for the college of her choice, nor when vying for top academic scholarship programs.
Madison was eager to share the next part of her story and how Jumpstart Test Prep changed her life.
Madison's dad told her that he purchased the Jumpstart Test Prep program after hearing about it on the radio. While Madison was appreciative, she told her dad reluctantly that there were only three weeks before the ACT® and she was not sure she would have enough time to prepare for the exam.
Madison trusted her instincts and believed that if she put in the work, much like with her success on the track, results would soon follow.
Madison began the eight-module Jumpstart English review by watching a short video module on weeknights while completing the accompanying workbook. She started seeing that she better understood the material, gained confidence, and learned new strategies on how to approach the test. She continued by completing the four-module Jumpstart Reading review before her ACT® exam day.
Madison has applied many lessons from her training as a long-distance runner to her discipline for getting ready for the ACT®. Ultimately, she knew she could improve. She created a plan for daily practice, which helped launch her path toward success.
"Time management was a key to my success with the reading section because I never was able to finish it before Jumpstart Test Prep," said Madison. "I used the Jumpstart strategies on test day and they served me well as I jumped to a 31 in Reading! This was a +7 point improvement over my best score in my prior five attempts!
"The English content review was also very helpful to me because I was able to quickly review material that I haven't seen since junior high and forgotten most of the grammar rules that were reviewed," said Madison. "It didn't take much time to complete and with Jumpstart Test Prep I moved +3 points over my prior best score to reach a 31 in English!"
Jumpstart Test Prep has constructed an online review program based on over 40 years of work by Mississippi's 19-year STAR teacher hall-of-fame inductee: the legendary educator and tutor Dot McClendon. Its consistent quality, prestige and innovation is a culmination of her lifetime of experience.
"Madison represents a number of students who are able to change their futures with large improvements by using our review products to successfully prepare," says co-founder and CEO Sha Walker. "Our review program was developed by legendary 55-year educator Dot McClendon, who has tutored thousands and thousands of students, helping them to perform their best. Jumpstart Test Prep is a proven, modern approach that works for anyone. We are so proud of Madison for her grit and know she will do great in college."
The company's website, www.jumpstarttestprep.com, describes its program as a review utilizing streaming video modules that are delivered on-demand. The program is designed for classroom integration or individual study and proven to help students of all ability levels stay fully engaged and gain the most improvement in the shortest time by explaining difficult content in a way that every student can follow and understand. Students follow and complete the accompanying workbook as the review proceeds. Modules review the must-know content, include testing strategies specific to the exam, and conclude with realistic question practice modeled from actual "retired" exams that are provided under time constraint. According to student reviews of the program on the website, the program helps students with time management, allowing them to work faster on test day.
The company has found that when students are coached step by step, they can quickly secure significant gains, regardless of their initial proficiency in the subject area.
Walker and McClendon cite the top three competitive distinctions of Jumpstart Test Prep:
1. Proven exam prep expertise honed over a lifetime of successful results. The content review is delivered on-demand. It is highly visual and animated. Students respond to the ACT®-style practice questions.
2. The Jumpstart Test Prep review is engaging, not boring! Presented by a group of fun, young, diverse people, and presented in short 30-minute segments. Students must actively engage as they follow along in their workbook to build flashcards by completing the blanks and work ACT®-style practice problems as the online review progresses.
3. Improved time management. Jumpstart Test Prep reviews content step by step and then shows how to apply that content with follow-up examples. The examples are followed with challenge questions, allowing a clock timer countdown. Time is critical on the ACT® and, by the end of our review, Jumpstart Test Prep students know the average amount of time they can allocate per question and what to do when too much time has lapsed.
The company's ACT® subject area prep can be purchased à la carte at www.jumpstarttestprep.com.
About Jumpstart Test Prep
Jumpstart Test Prep (www.jumpstarttestprep.com) is a leading provider of educational services for individuals and schools. Established in 2015, Jumpstart Test Prep is a strong leader in the test prep industry.
Jumpstart's streaming video modules are delivered on-demand and are designed for classroom integration or individual study. Jumpstart's methodology is proven to help students of all ability levels stay fully engaged and gain the most score improvement in the shortest time by explaining difficult content in a way that every student can follow and understand. Each module reviews the must-know content, includes testing strategies specific to the exam, and concludes with realistic question practice.
Jumpstart Test Prep currently provides exam preparation for the ACT®, GED®, HiSet®, TASC®, Praxis® Core and ACT WorkKeys®.
For more information on Jumpstart Test Prep, please visit https://www.jumpstarttestprep.com/ and visit them on Facebook at https://www.facebook.com/pg/jumpstarttestprep/reviews/.
Media Contact:
Robert Cadogan​​​
Email: ​info@jumpstarttestprep.com
Phone: 833-835-8329
ACT® and ACT WorkKeys® are registered trademarks of ACT, Inc.
GED® is a registered trademark of American Council on Education Corp.
HiSet® and Praxis® are registered trademarks of Educational Testing Service
TASC® Test Assessing Secondary Completion is the registered trademark of Data Recognition Corp.
Jumpstart Test Prep is not affiliated with or endorsed by any of these companies.
Source: Jumpstart Test Prep
Share: