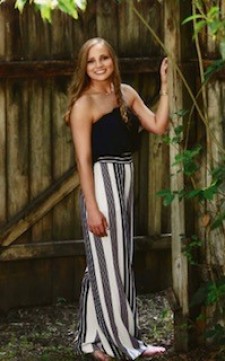 The inspirational story of finding success when time accommodation requests are not granted
BROOKHAVEN, Miss., October 15, 2019 (Newswire.com) - ​​​​​Malori was in the 4th grade when, after having increasing problems with reading, she was diagnosed with dyslexia. Her family repeatedly witnessed that when she was placed into testing situations involving time, this caused issues with her test-taking.
"We knew there was something with her reading because her grades in other classes were always high, but her reading was always two or three grades behind," said Lora Cade, Malori's mother. "So, by the end of Malori's 3rd-grade year, I knew we had to intervene … something was wrong. We decided to have her tested in Hattiesburg, Mississippi - a six-hour comprehensive study. Within the first 30 minutes, the doctor said she was dyslexic. Malori has an extreme anxiety towards timed testing because of her dyslexia."
The need for extra time
What followed in Malori's educational journey was an accommodation of extra time that would be allowed during her elementary and junior high years. Extra time has always been integral for her test-taking.
Robin Case, principal at Loyd Star Attendance Center, said, "Malori is a dynamic, dedicated young woman. She gives 100% to every task she tackles, be it academic or athletic. She has always been successful academically with the allowance of extra time for tests. With her diagnosis of dyslexia, it seems a very reasonable request that she be allowed extra time on tests."
When it came to the ACT, Malori viewed it this way: "I can't read fast enough, and I'm not going to be able to get the score I need."
With extra time, Malori has always been able to stay calm and focused, resulting in strong results. However, securing extra time from the ACT was not taking place.
"We requested the ACT allow her extra time, and she was denied both times," said Lora. "We did everything we could … even providing a letter from her doctor sharing that she was diagnosed with ADHD and was under his care."
Lora added that she learned the only reason the ACT would not allow her the extra time was that Malori had not formally enrolled in a 504 plan, an educational support program available in the public school system for students.
Over the years, Malori's small school district simply allowed her the necessary time to take her tests without the mounds of paperwork.
Local school officials shared, at the school level, they struggle to determine what qualifies for extra time with ACT. School counselors submit all required documentation for IEP and 504 students who have the accommodation of extra time in their approved plans. Some of these students are granted extra time by ACT while others are denied.
Don't give up
What followed was two years and six ACT tests with scores that didn't meet the entrance requirements to her desired college. She started with a 15 composite and moved up to a 17 over those attempts.
"Mama … Daddy, I'm tired of wasting your money. I'm tired of sending the ACT your money and I'm not scoring any better," said a deeply dejected Malori.
"I knew this was setting her up for the rest of her life and career dreams would die if she didn't get into her desired program at our local community college - requiring at least an 18 composite ACT score as a prerequisite to get into the program," said Lora in a supportive voice. "She was denied the extra time again by ACT. We were going to do whatever we could to boost her self-esteem and give her the confidence she needed."
Malori began working with teacher and ACT tutor Leslie Hood, who recommended Jumpstart Test Prep's ACT reading and science prep for her. Leslie knew about their review products, as she had assisted the company with the editing of their science review during its development.
Jumpstart Test Prep's website, www.jumpstarttestprep.com, describes their program as a review utilizing streaming video modules that are delivered on-demand. The program is designed for classroom integration or individual study and proven to help students of all ability levels stay fully engaged and gain the most improvement in the shortest time by explaining difficult content in a way that every student can follow and understand. Students follow and complete the accompanying workbook as the review proceeds. Modules review the must-know content, include testing strategies specific to the exam, and conclude with realistic question practice modeled from actual "retired" exams that are provided under time constraint. According to student reviews of the program on the website, the program helps students with time management, allowing them to work faster on test day.
Lora shared that when her family was introduced to Jumpstart Test Prep, they were supporting Malori through her sense of low self-esteem. "Mrs. Hood has been a blessing. First of all, it took her a month to get Malori's confidence up. Mrs. Hood would tutor her for an hour and a half with added work. She was getting 24s on practice tests without being timed. But when Mrs. Hood would enter a time constraint, Malori was still scoring a 21. Still, I saw the confidence with a child with dyslexia grow."
Lora added, "Once her confidence started increasing, everything clicked. Improving from a 14 to 21 on the ACT reading section for a dyslexic is huge!"
Getting the results
"Ms. Leslie texted me around 5:30 a.m. that the ACT test results posted," said Lora. "We were completely shocked. I woke Malori up and told her she made it. She had exceeded the composite score needed to enter the program and would ultimately be able to go to a 4-year college!"
Lora placed Malori's experience into perspective. "The road can go any way she wants now; she opened the door. Her hope and confidence continue to rise; now she sees how this has changed her life."
After working with Mrs. Hood and utilizing the Jumpstart Test Prep program, Malori moved her score 2 composite points to a 19 after her recent ACT attempt. She moved 7 points north in reading and 2 points north in science over her best scores.
"Malori began her journey feeling as if the cards were already stacked against her, however, she does not ever quit. She worked hard throughout tutoring and, with the help of JumpStart, was able to reach her ACT goal," said Leslie Hood. "I was overjoyed to find out how well she had done. I appreciate the opportunity to work with students and guide them through the ACT test. I highly recommend JumpStart as a tool to allow other students to reach their dreams. Malori is a shining example of the benefit of hard work."
Malori summed it up perfectly. "I know many face the same challenges I do. I wanted to share what worked for me so that others might keep working to achieve their goals as well."
Media Contact:
Robert Cadogan​​​
Email: ​info@jumpstarttestprep.com
​Phone: 833-835-8329
Source: Jumpstart Test Prep
Share: