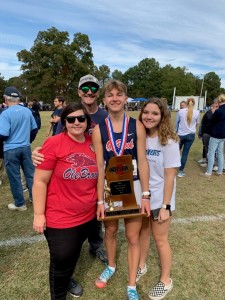 BROOKHAVEN, Miss., January 16, 2020 (Newswire.com) - ​​​​​At the core of every cross-country runner is the spirit to never give up. Runners are known for their mental toughness, accompanied with a strong focus and resilience to overcome all obstacles. But for Jacob Britt, a Brookhaven High School Senior and accomplished cross-country runner, the ACT exam was the obstacle keeping him from claiming an athletic scholarship at Mississippi College.
Jacob's story begins like many students as he prepared for the ACT exam. On his first attempt, he went in cold, which resulted in an unremarkable score that did not represent his ability.
"He was really discouraged his first time around with little preparation, and he was upset with his score," said Leslie Britt, Jacob's mother. "We talked about it and placed things into perspective."
The next ACT attempt, Jacob was able to complete some test preparation at school. Yet, this effort raised his score by only one composite point--not enough to claim the athletic scholarship.
"Before I knew about Jumpstart Test Prep, my ACT results were really taking a toll on me. I didn't make a good score and it got me down a lot and I really thought there was no way I was going to college," said Jacob.
Jacob worked with the Jumpstart Test Prep online science and reading review programs days prior to his next ACT exam. After the test results came in, Jacob realized dramatic improvements in both subject areas over his best prior attempts:
· +5 point gain in Reading
· +6 point improvement in Science
· +4 composite gain delivered the admission requirement needed.
Encouraged, Jacob plans a final lap with the ACT utilizing the Jumpstart Test Prep Math and English review programs with a goal to raise his composite score by another four points.
Jumpstart Test Prep constructed an online review program based on 40 years of work by Mississippi's 19-year STAR teacher hall-of-fame inductee: the legendary educator and tutor Dot McClendon. Its consistent quality, prestige and innovation is a culmination of her lifetime of experience.
The company's website, www.jumpstarttestprep.com, describes their program as a review utilizing streaming video modules--delivered on-demand. The program, designed for classroom integration or individual study, is proven to help students gain the most improvement in the shortest time.
"This review provided great tips and strategies and practice that helped me manage my time better on both the science and reading sections and that was a game-changer!" said Jacob.
Jacob's mom, Leslie said: "Invest in the Jumpstart Test Prep program, put in the money, help your child put in the work and you will see an improvement."
About Jumpstart Test Prep
Jumpstart Test Prep (www.jumpstarttestprep.com) is a leading provider of educational services for individuals and schools. Established in 2015, Jumpstart Test Prep is a strong leader in the test prep industry.
Contact:
Robert Cadogan​​​: ​info@jumpstarttestprep.com
833-835-8329
Source: Jumpstart Test Prep
Share: